• brown trout • fly fishing • fly fishing clothing • fly gal • rainbow trout • sport fishing • trout • women fly fishing • yin yang • zen fishing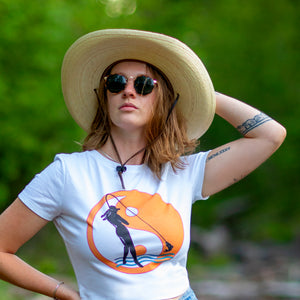 MY YIN YANG WILD CUTTY. Yin yang is an ancient symbol of harmony and balance. Like yoga is for some folks, fly fishing is my yin yang. You know that feeling. When you've tied on the right fly, cast to the right spot, and and it all comes together with an aha moment? A sense of gratitude and humility fill you up because you've taken all the right precautions to safely release this wild creature safely back to where it came from. That's why I love the art of fly fishing. When it all comes together and you're one with nature. The yin yang of it all. The perfect zen moment.
In support of fly fishing women, we've combined the logo from fly fishing artist Laurie Lane and the ancient symbol to create the Yin Yang Collection. If you'd like to learn more about the design and the story behind this beautiful native cutthroat, go to our website and sign up for our newsletter.